MAX 30
Introducing the MAX 24 & MAX 30 VARIABLE SPEED, WET GRINDING AND POLISHING MACHINE.

FEATURES:
Water provides the highest level of Precious Metal retrieval while providing a cool work piece.

Precious and Semi Precious Stone shaping to finishing made easy with variable speed control.

ADVANTAGES:

30% more wheel and belt life with variable speed and water

Cool clean

BENEFITS:

Replace multiple work stations, increasing throughput, while reducing rejects.

Reduced equipment costs i.e. dust collectors and electrical cost.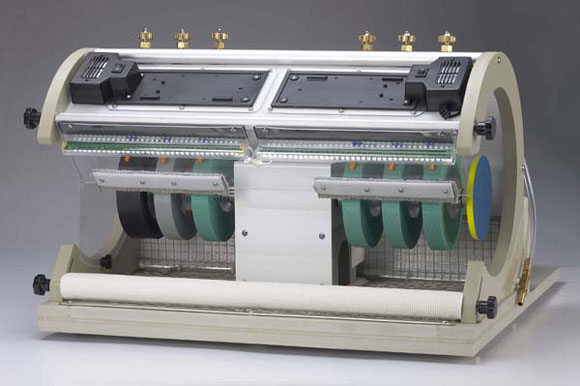 You can move from casting to high polish in just minutes.
Up to 6 independent wheel positions plus and optional disc for lapping on right side. User friendly Speed Controller.
The MAX utilizes a wide variety of innovative, high-quality 3M Abrasive and Diamond wheels/belts.
1/2 hp drive, variable-speed control with UL, CE listed AC sealed bearing motor speed range from 500rpm to 3600rpm.
4 gallon capacity recirculation system includes high power pump special design for water drain tray for water flow with recirculation. (Bucket is not included)
New LED lights for more detail work and inspection.
Key Features : No Dirts, No Greasy, No mess – No mask need to wear. Hands keep clean, no more polishing, compound no ultra sonic cleaning

Not Hot – Wet grinding and polishing will keep hands cool at all time, work faster great to work with stainless steel or titanium jewelry.

Security – All deburring, cutting, grinding and polishing for precious metal to be reclaim and special security stainless steel screen has control for all. No more dust collector needed.