EASY50
EASY50 is the laser devised for the dental laboratories and goldsmith workshops due to its measurements and contained price.

From an aesthetic aspect it resembles the MASTER 100 laser in terms of size, while its capacity and power have been reduced power up to 50 J and impulse duration till 10ms.

Despite being a very compact machine it has a very powerful integrated cooling system ; the welding chamber offers easy access and inspection thanks to the front door opening.

Cold LED lights inside allow increased welding sharpness alongside reduced strain on the vision. It is fitted with a large blue-white touch screen display that can be positioned ergonomically, with the option of an internal joystick.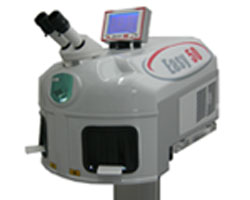 LASER EASY 50 APPLICATION
Laser welders devised for the dental technician laboratory and for small goldsmith repairs.
Easily weld precious metals and other, including platinum,titanium,gold,silver and palladium.
Repairs old jewellery perfectly.
Repairs mounting without having to remove the stones.
Repairs watches and other parts, even glasses.
Welds the elements using weld materials,and leaves them clear,sharp and without the need to clean again.
Repairs casting defects such as porosity or breakages, by simply welding those areas with solder wire.
NEW FEATURES OFFERED BY EASY50 LASER
It's the first laser controlled by a digital microprocessor (D.S.P.)
Real time and automatic regulations of the power supply.
Double light LCD shutter.
20 Hz frequency
Automatic control of the laser lamp, with consequent automatic adjustment of the energy.