ELECTROLYTIC WELDING MACHINE
The electrolytic welding flame is directed by a needle, which performs and guarantee a delicate and accurate finishing.

The electrolytic welding process is clean and economic. The hydrogen combustion created by water electrolysis DOES NOT PRODUCE RESIDUES.

All the conventional processes instead, like oil gas welding (GLP), change and darken the surface characteristics around the welding area.

In this way, the electrolytic welding machine also dispense an additional cleanness step avoiding metal surface oxidation.

EUROTecniche electrolytic welding equipments are compact and easy to transport.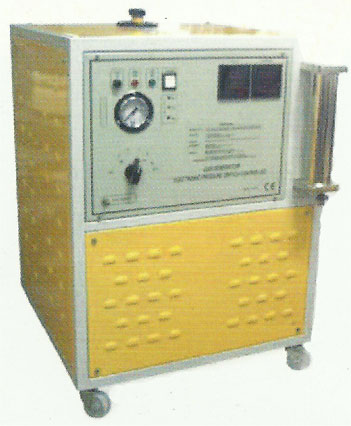 Features
2 FLAMES
4 FLAMES
12 FLAMES
20 FLAMES
Tank Capacity
1 litre
2.5 litre
8.0 litre
8.0 litre
Pressure bar
1
1
3
5
Power supply
220V-50-60Hz
220V-50-60Hz
220V-50-60Hz
380V/3/50-60Hz
220V-50-60Hz
380V/3/50-60Hz
Amperage
4 A
7 A
14 A
14 A
Dimensiona
300x430x400 mm
300x430x400 mm
600x600x930 mm
600x600x930 mm
Weight
35 Kg
45 Kg
120 Kg
120 Kg