Vaccum Wax Injector
The first vacuum wax injector with built-in digital and proportional pressure controller!.

1. Designed with a wide LCD screen which allows to easy set, check and program all functional parameters (such as: injection pressure regulation control, proportional pressure, vacuum and autoclamp control parameters).

2. Proportional wax injection in the mould which permits to produce bulky pieces without shrinkage and fine filigree pieces without flash.

3. Compact, tabletop format. Specifically designed for intricate moulds featuring fine filigree, posts and claws.

4. Evacuating air from the mould permits complete filling, thus ensuring consistently perfect waxes, whether massive or fine.

5. Rejection rates of even the most difficult patterns are minimised.

6. Perfect filling performance enables the production of new, sophisticated designs.

7. Massive time saving is achieved due to the elimination of touching up patterns.

8. A completely new design of wax and vacuum chambers makes for quick and simple cleaning.Quiet operation, accurate control of wax chamber and nozzle temperatures, vacuum and injection times presettable.

9. Easily fitted to its mating autoclamp; the most compact on the market which can produce perfect wax patterns, consistent in weight and with high productivity.

10.This easy-to-use system makes possible the production of consistent wax patterns at a rate increased by as much as 50% compared to hand-held injection.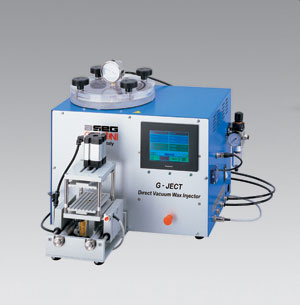 TECHNICAL FEATURES
Electrical
Singlephase V 110/230 - Hz 50/60
Wax capacity
kg 3,5
Dimensions and weight
base mm 380 x 270 - H. mm 400 - kg 24
Warranty
12 months