MEGA ULTRA
MEGA ULTRA

HIGH HANDLY TECNOLOGY

MEGA ULTRA is the most complete machine developed by Elettrolaser, to meet the continuous requests from an evolving market

The machine has been devised to satisfy the needs of customers with very specific requirements: to use the laser not only for welding, but also to set the stone, work metals with micro-motor inserted in the welding chamber and perform a quality check on the jewels worked.

A fume aspiration system is provided as standard which also recovers the precious material which can be accessed by a rear opening to the machine.

A support "stock" and a micro-motor help the operator in the complete working of the jewels, that can be viewed and checked inside the welding chamber, which is deeper and more accessible by frontal door.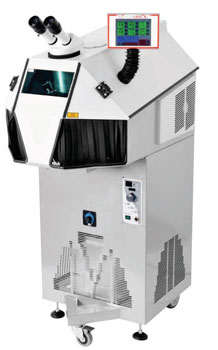 LASER MEGA ULTRA APPLICATION
Easily weld precious metals and other, including platinum, titanium, gold,silver and palladium.
Suitable for setting jewels thanks to the support stock.
Easy insertion big objects thanks to the two front openings.
Possibility to make work quality control thanks to the great dimension of welding chamber.
A micro-motor provided as standard for working metals and a specific extraction system.
Repairs mounting without having to remove the stones.
Repairs watches and other parts, even glasses.
Welds the elements using weld materials, and leaves them clear, sharp and without the need to clean again.
Repairs casting defects such as porosity or breakages, by simply welding those areas with solder wire.
NEW FEATURES OFFERED BY MEGA ULTRA LASER
It's the first laser controlled by a digital microprocessor (D.S.P.)
Real time and automatic regulations of the power supply.
Double light LCD shutter.
40 Hz frequency
Automatic control of the laser lamp, with consequent automatic adjustment of the energy