DIGITAL TECHTROL
DIGITAL TECHTROL PRO
AUTO-CLAMP AND PRESSURE CONTROLLER NO.0634 120V
NO.0635 240V

ALL IN YOUR QUALITY CONTROL:

1. Set your consistent clamp pressure on mold provides accurate wax weights every time and leaves your hands free to prepare the next mold.

2.Set your mold forward pressure to meet with injection nozzle complete closed for vacuum and wax injection work.

3. Set your desired pressure from thousands of setting (1/10 psi or 1/10 kg/cm2 increments).

4.Set your after wax injection mold return and holding time with the same clamping pressure for best wax pattern made.

5. Set your single or double injection pressure mode with incontrol vacuum wax injector.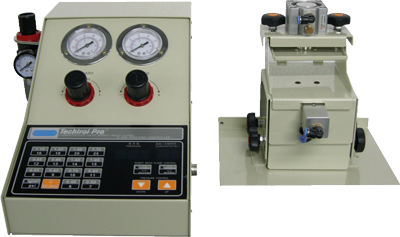 Specifications:


Power: 115V~120VAC 2 AMP
220V~240VAC 1 AMP

Max air pressure: 70 psi (5 kg)


Control console:8¼"(W) x 13½"(D) x 7½"(H) (210 x 345 x 190 mm)
Clamp mechanism:6¼"(W) x 7"(D) x 8¼"(H) (160 x 180 x 210 mm)
Net weight:21 lbs (9.55 kgs)
Shipping weight:31.9 lbs (14.5 kgs)